Update December 18, 2019
$tslaQ contributor @TeslaCharts' June 2018 Twitter thread on the acquisition of SolarCity by Tesla must now be seen as remarkably prescient, as virtually the entire piece has been validated by unsealed court deposition transcripts obtained and published by plainsite.org, a non-profit organization that promotes transparency in the legal system.
A summary of key findings from the transcripts was published by CNBC on September 23, 2019.
The transcripts in full are available at PlainSite.
February 7, 2019
Recent news reports from WIVB in Buffalo, NY have brought new attention to Tesla's "Gigafactory 2" in Buffalo, formerly a SolarCity factory. Tesla acquired SolarCity in November 2016, a deal that eventually led to a shareholder lawsuit against Tesla, which is ongoing at this time.
WIVB Report, February 4, 2019
WIVB Report, February 6, 2019
In June 2018, $tslaQ contributor @TeslaCharts wrote the following concise history of the events surrounding the Tesla acquisition of SolarCity, occasioned by release of a judge's opinion which allowed the lawsuit to proceed. Minor changes have been made for clarity; a link to the original Twitter thread is here.
With the recent release of the judge's ruling allowing the shareholder lawsuit against Tesla on the SolarCity deal to proceed, we are now able to piece together the history of this deal in a way that was not possible before.
Memorandum Opinion Denying Defendant's Motion to Dismiss
SolarCity was founded by Elon's cousins, brothers Peter and Lyndon Rive in 2006, based on a suggestion by Elon for a solar company concept. Elon was the biggest shareholder with more than 20% ownership. He was also chair of the board, the strongest of equity fiduciaries imaginable.
Although a strong revenue growth story, by February, 2016 it was becoming clear to the market that SolarCity was in trouble. There were whispers of a liquidity crisis, and the stock had fallen 80% from its February, 2014 high to below $20 a share.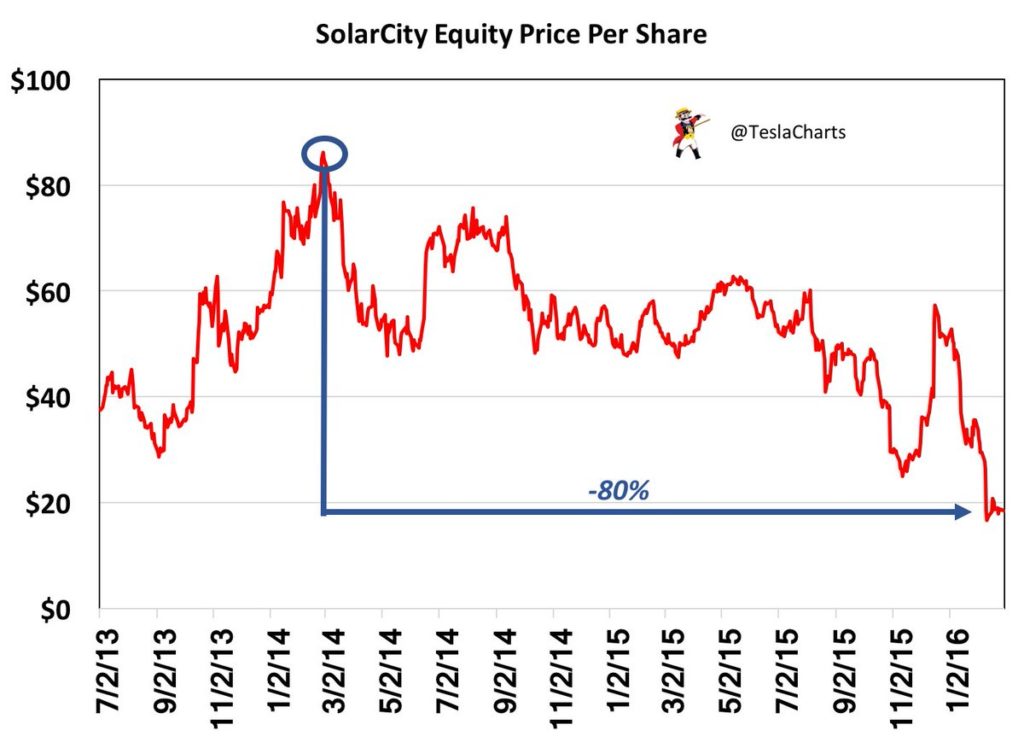 In the months prior to February, 2016, SpaceX was a frequent purchaser of SolarCity bonds. Of course, Elon was also the largest shareholder and CEO of SpaceX.
SolarCity Lawsuit Memorandum Opinion 03/28/2019

SpaceX was the largest holder of Solar Bonds. In March 2015, SpaceX bought $90 million in Solar Bonds, and then $75 million in June 2015 and $90 million in March 2016. Id. In November 2015, a Musk-affiliated entity acquired $10 million in Solar Bonds and Lyndon purchased $3 million. Id. When SolarCity sought to raise $124 million in an August 2016 bond offering, Musk purchased $65 million of these Solar Bonds, and Lyndon and Peter each purchased $17.5 million.
In February, 2016, during a SolarCity board meeting that Elon chaired, the true state of the liquidity situation was discussed.
SolarCity Lawsuit Memorandum Opinion 03/28/2019

In February 2016, a SolarCity Board presentation (the "February 2016 SolarCity Board Presentation") acknowledged that the company faced "significant liquidity concerns" and that SolarCity's cash balance would not meet the Revolver's required level at least three times in 2016—in May, August and September.¹⁰⁶ To make matters worse, $1.23 billion of SolarCity's debt was scheduled to become due by the end of 2017.¹⁰⁷ Musk, Gracias and Buss attended the February 2016 meeting and were well aware of SolarCity's "significant liquidity concerns" at the time Musk brought the proposed acquisition of SolarCity to the Tesla Board.¹⁰⁸
Days later, at the Tesla board meeting, which Elon also chaired, he proposed for the first time that Tesla should acquire SolarCity. The board did not agree on that day, citing potential management distractions.
SolarCity Lawsuit Memorandum Opinion 03/28/2019

D. Musk Persistently Presents the SolarCity Transaction to the Board.

The Tesla Board held a special meeting on February 29, 2016.114 At the meeting, Musk and Tesla CFO, Jason Wheeler, presented a preliminary plan for Tesla to acquire SolarCity.115 Musk led the presentation.116 The stated purpose of the proposed transaction was "to complement the Company's Energy business, grow the Sales operations of the Company and to create other product, service and operational synergies through the combination of the companies."117 Musk's focus was on a potential acquisition of SolarCity; he did not mention and the Board did not consider other companies in the solar industry or other strategic transactions.118 The Board "decided not to proceed with an offer to SolarCity at [that] time because of the potential impact on the management team's time and resources in the near term."119
Two weeks later, Elon tried again. The board again deferred.
SolarCity Lawsuit Memorandum Opinion 03/28/2019

Two weeks passed, and Musk was before the Tesla Board again to propose a possible acquisition of SolarCity (and only SolarCity) during the Board's March 15, 2016 meeting.120 And, again, the Board deferred the discussion.121
Now things get really interesting. On May 23, 2016, after Elon's second attempt at convincing the Tesla board to buy SolarCity, the SEC begins extensive correspondence with SolarCity, inquiring about their accounting and liquidity situation. (Source: SolarCity SEC filings)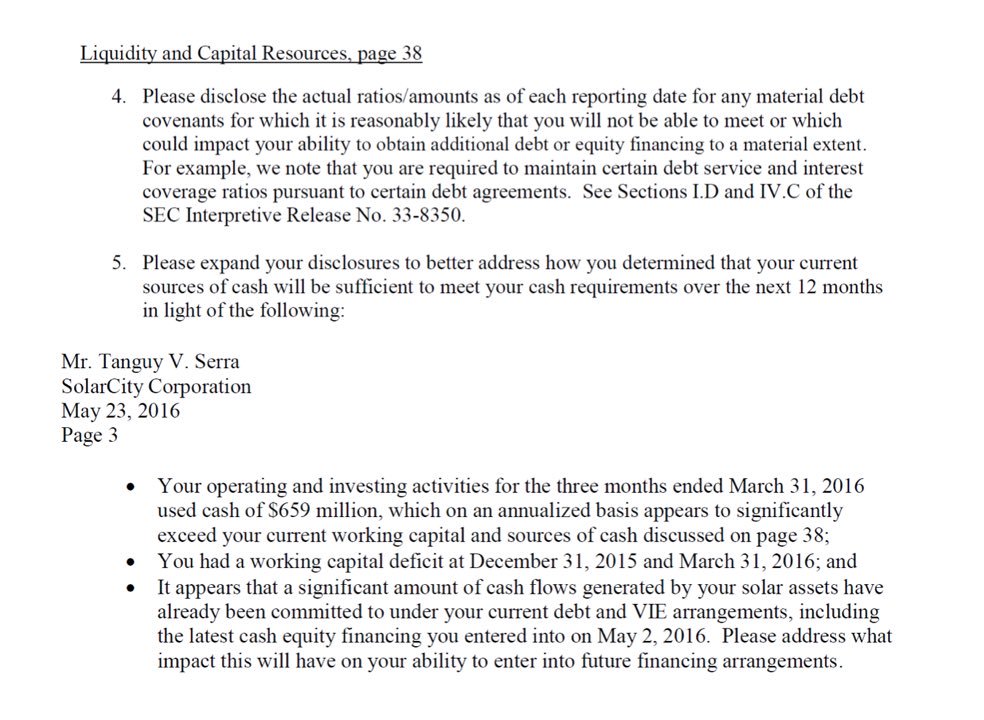 A little over a week later, Elon is back at the Tesla board again. Surprise! They agree to his plan to make an offer on SolarCity.
SolarCity Lawsuit Memorandum Opinion 03/28/2019

Less than three months later, on May 31, 2016, at a regularly scheduled meeting of the Board, Musk was back to propose (again) a possible acquisition of SolarCity.122 This time, the Board appeared to share Musk's view of "the possible benefits . . . [of] acquiring a solar energy company in the context of the Company's strategic plan."123 The minutes of the meeting reflect that "the Board discussed the possibility of evaluating an acquisition of SolarCity Corporation . . . as a potential target of opportunity in the solar energy space."124 Once again, SolarCity was the only target on which the Board trained its sight.125
Three weeks later, at the Tesla June 20, 2016 board meeting, the merger gets the green light.
SolarCity Lawsuit Memorandum Opinion 03/28/2019

The Tesla Board called a special meeting for June 20, 2016 (the "June 2016 Special Meeting") "to further explore a potential strategic transaction between the Company and a participant in the solar energy industry." 129 Musk opened the meeting by "remind[ing] the board that the issue [of acquiring SolarCity] had been raised and discussed but ultimately deferred at previous meetings and review[ing] some of the strategic considerations that the board had evaluated at those previous meetings."130 It is alleged that, as if on cue, the Board heeded Musk's "tacit order" and promptly authorized its advisors to make an offer for SolarCity.131
The next day, June 21, 2016, Tesla makes its offer public.
SolarCity Lawsuit Memorandum Opinion 03/28/2019

E. The Offer for SolarCity

On June 21, 2016, Tesla announced its offer to acquire SolarCity in a stock-for-stock transaction at an exchange ratio of 0.122x to 0.131x (the "Offer").138 The Offer valued SolarCity at $26.50 to $28.50 per share, the equivalent of $2.6 to $2.8 billion.139 The proposed purchase price reflected a 21% to 30% premium to SolarCity's closing price on June 20, 2016.140
During a call with investors the day after the offer, on June 22, 2016, Elon makes this odd comment. We know now that he was fully aware of the liquidity crisis at SolarCity.
SolarCity Lawsuit Memorandum Opinion 03/28/2019

Musk was active in his sponsorship and backing of the Offer and the eventual Acquisition both before and after the announcement of the deal. First, during a June 22, 2016, call with investors and analysts, one day after Tesla announced the Offer, Musk stated:

Like the opinion is unanimous for both companies. So, I mean, unless there's something discovered that like that I have no idea about or just that nobody on the board has any idea about, which is extremely unlikely, then the board would—the independent board members would recommend in favor of completing a transaction somewhere in the price range that was mentioned, most likely.141
Two weeks later, on July 5, 2016, the Tesla board finds out from Evercore Partners about the true state of the liquidity crisis at SolarCity.
SolarCity Lawsuit Memorandum Opinion 03/28/2019

F. Due Diligence Reveals SolarCity's Liquidity Crisis and Other Issues

In a July 5, 2016 presentation to the Tesla Board, Evercore warned the Board that SolarCity had $3.164 billion in outstanding debt as of March 31, 2016, and that significant debt would mature in a three-to-five year window. 148
Two weeks later, on July 19, 2016, at yet another special meeting of the Tesla board, the liquidity situation at SolarCity is becoming more acute.
SolarCity Lawsuit Memorandum Opinion 03/28/2019

At its July 19, 2016 special meeting, the Tesla Board discussed SolarCity's liquidity situation. 150 As predicted in the February 2016 SolarCity Board Presentation, SolarCity was heading towards cash balances below the minimum level required by the Revolver for the weeks of July 22, August 5 and August 12.151
And presto! On the very next day, July 20, 2016, Elon releases his Master Plan, Part Deux. This was the plan all along, and only SolarCity will do.
SolarCity Lawsuit Memorandum Opinion 03/28/2019

And finally, one month following the announcement of the Offer, on July 20, 2016, Musk published his "Master Plan, Part Deux" to Tesla's website.144 This "manifesto" of sorts updated the original Master Plan that Musk published in 2006 and detailed Musk's vision for Tesla's future.145 The Master Plan, Part Deux, states, in relevant part:

The first master plan that I wrote 10 years ago is now in the final stages of completion. It wasn't all that complicated and basically consisted of:

Create a low volume car, which would necessarily be expensive
Use that money to develop a medium volume car at a lower price
Use that money to create an affordable, high volume car

And . . . Provide solar power. No kidding, this has literally been on our website for 10 years.
On August 1, 2016, Tesla and SolarCity announce they have signed an agreement to merge.
SolarCity Lawsuit Memorandum Opinion 03/28/2019

H. Tesla and SolarCity Announce the Merger Agreement

On August 1, 2016, Tesla and SolarCity announced they had executed an Agreement and Plan of Merger dated July 31, 2016 (the "Merger Agreement"),pursuant to which Tesla would acquire SolarCity in an all stock deal.173 The Merger Agreement provided for each share of SolarCity common stock to be converted to 0.110 shares of Tesla common stock (the "Exchange Ratio"). 174
On August 9, 2016, SolarCity files its Q2 10Q, and warns of its liquidity constraints. This is pretty stark language for a 10Q. It is clear SolarCity is running out of money.

On August 23, 2016, SolarCity offered solar bonds to the market, which didn't go very well. Musk and other insiders ultimately purchased the majority of the offering. This was spun as Musk giving a personal vote of confidence in SolarCity.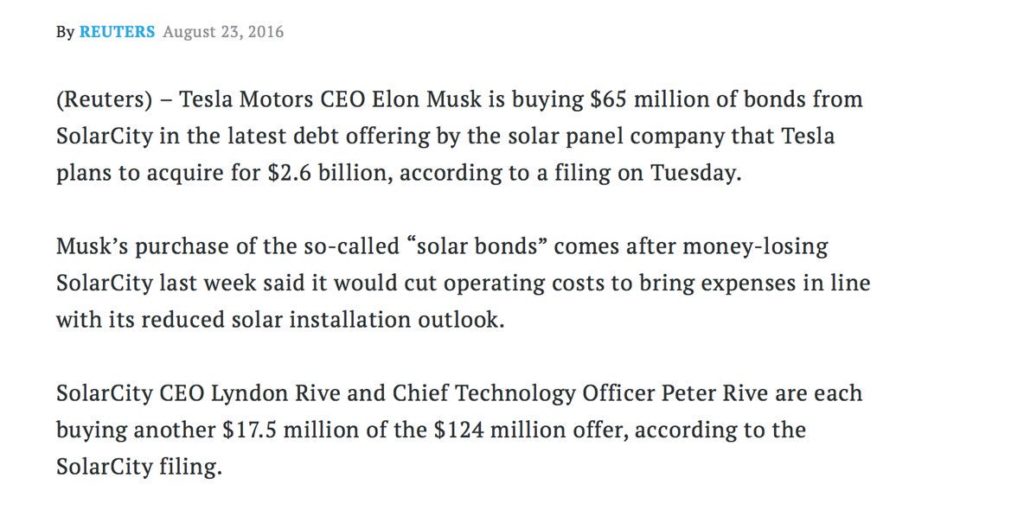 We find out at the end of the month that Elon didn't put fresh capital into SolarCity. He pledged more of his shares in the company (Tesla) to finance the bond purchase.

Think about where we are in September, 2016. This is a partial summary of Elon's complex position. From the perspective of Tesla shareholders, could he be more conflicted? There's only one mission. SolarCity MUST be saved, or the whole thing collapses.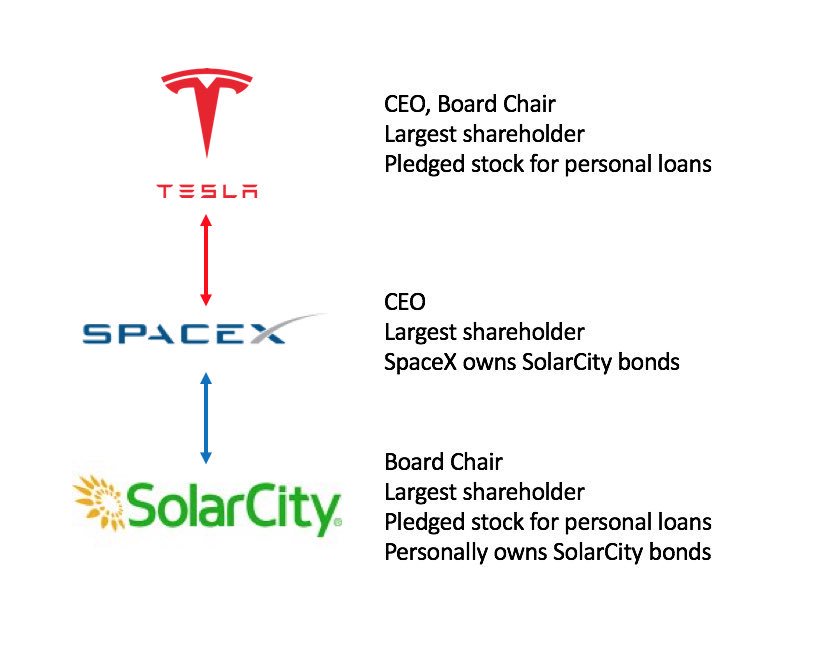 By September 1, 2016, the market begins to sour on the SolarCity deal. The stock trades well below the offer price, indicating that the street thinks the deal won't get done.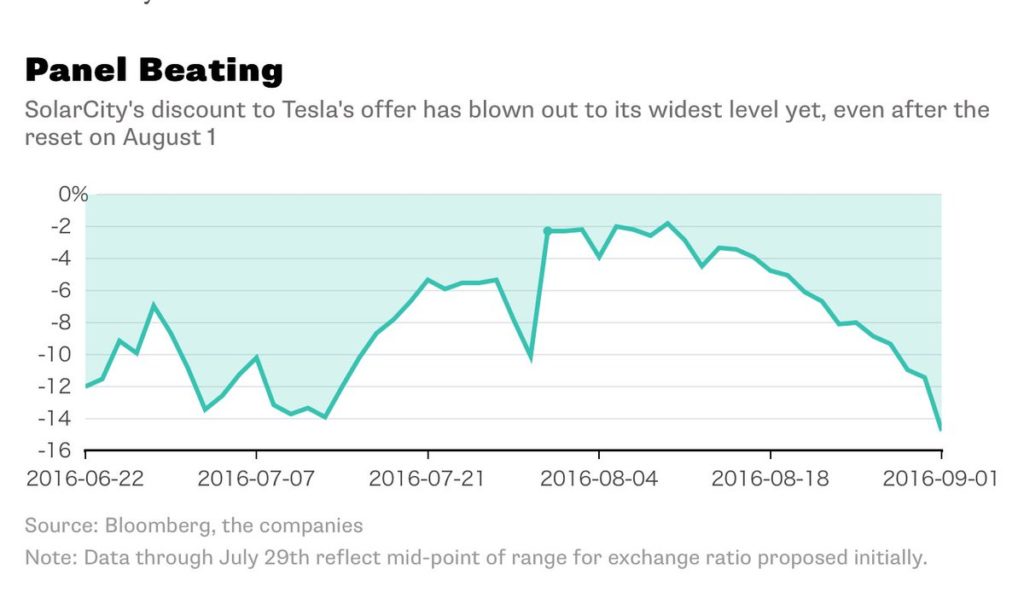 On October 28, 2016, Elon does the now infamous solar shingle reveal. According to reports that surface after the deal closes, this reveal comes as a surprise to many internally at both companies. And the roofs on display are fake.
The shareholder vote happens on November 17, 2016. The deal closes on November 21, 2016. The SpaceX bonds are ultimately paid off. Elon's SolarCity stock gets converted to Tesla stock. He rolls his personally owned SolarCity bonds into new Tesla debt. And poof. Problem solved.
But what happened to this great business Tesla shareholders bought? Tesla is now looking down the barrel of billions in SolarCity debt. And here are the historical megawatts (MW) installed, before and after this 'merger'.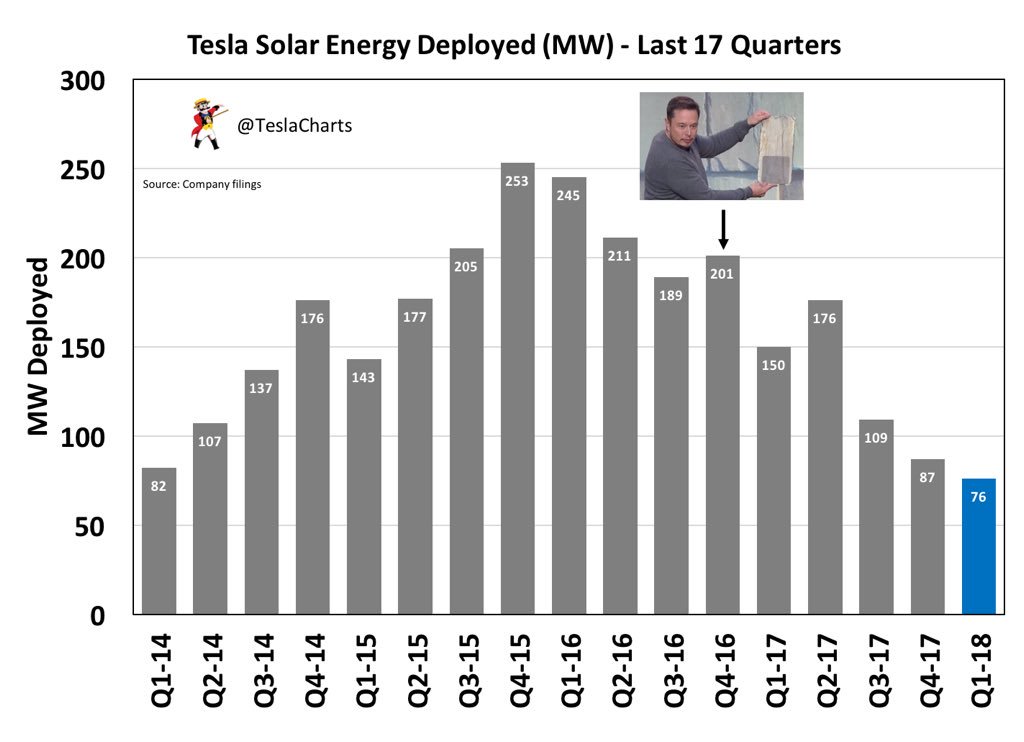 What does this have to do with Tesla today? I think everything. I still believe in the US capital markets. I hope the SEC does too.
@TeslaCharts
June 15, 2018
Minor revisions and updated links February 7, 2019