Since May 2018, Paul Huettner, CFA has maintained a list of executive-level staff who have left Tesla. Paul has published regular updates to his list, you can download his latest version in PDF format here.

We have reformatted Paul's data for easy viewing on mobile devices, which does result in a few line wrap issues we'll try to resolve later. There may be additional information in the PDF regarding some individuals. Dates of service are generally from first hire to latest departure, thus Deepak Ahuja's tenure in our table doesn't reflect his time away from Tesla.
Click on a person's name to see a citation regarding their departure from Tesla.
Executive Departures per Quarter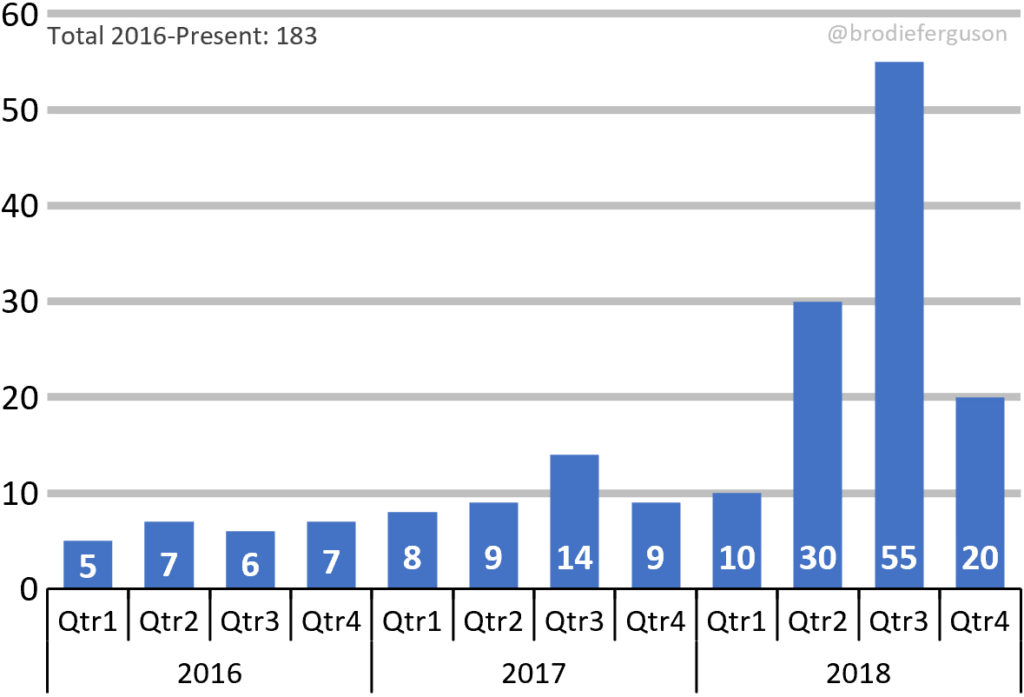 2018 – 2019
| | |
| --- | --- |
| Position and Name | Dates |
| | |
| Chief Financial Officer | Aug-08 |
| Deepak Ahuja | Jan-19 |
| | |
| Senior Transaction Lead, Global Capital Markets | Feb-17 |
| Luis Solana | Jan-19 |
| | |
| Senior Director, Engineering | Oct-12 |
| Charles Mwangi | Jan-19 |
| | |
| Associate General Counsel | Apr-10 |
| Eric Weingarten | Dec-18 |
| | |
| Senior Director, Investor Relations | Apr-13 |
| Aaron Chew | Dec-18 |
| | |
| SVP / Senior Director, Customer Support & Business Operations | Feb-10 |
| Fiona Taylor | Dec-18 |
| | |
| Head, Global Sales, Marketing, & Delivery | Jan-18 |
| Dan Kim | Dec-18 |
| | |
| Head, Digital Product, Design, & Content | Aug-17 |
| Parag Vaish | Dec-18 |
| | |
| General Counsel | Oct-13 |
| Todd Maron | Dec-18 |
| | |
| Head, Global Learning & Talent Development | Jun-17 |
| Heidi Brandow | Dec-18 |
| | |
| Country Director & GM, Latin America and Southeast U.S. | Oct-15 |
| Françoise Lavertu Stevens | Dec-18 |
| | |
| Senior Manager, Global Sales & Delivery Operations | Jan-13 |
| Marco Batra | Dec-18 |
| | |
| Senior Manager, Production Engineering | Apr-16 |
| Chris Guenther | Dec-18 |
| | |
| Consumer & Retail Communications | Jan-18 |
| Alexandra Valasek | Dec-18 |
| | |
| Senior Director, Engineering, Body, Exteriors, Lighting, & Closures | Dec-16 |
| Matt Casebolt | Nov-18 |
| | |
| Senior Manager, Design | Dec-16 |
| Andrew Kim | Nov-18 |
| | |
| Senior Director, Global Security | Jan-18 |
| Jeff Jones | Nov-18 |
| | |
| VP, Legal | May-11 |
| Phil Rothenberg | Nov-18 |
| | |
| Country Director, South Korea | May-17 |
| JJ Kim | Oct-18 |
| | |
| Director, Global Body Repair Program | Aug-17 |
| Laerte Zatta | Oct-18 |
| | |
| Senior Manager, Finance & Operations EMEA | Oct-14 |
| Alex Buhr | Oct-18 |
| | |
| Senior Director, Global Business Operations | Feb-12 |
| Tobias Duschl | Oct-18 |
| | |
| Senior Director, HR, Energy | Jun-18 |
| Mariel Kelley | Oct-18 |
| | |
| Senior Manager, New Product Introduction, Vehicle Manufacturing | Dec-13 |
| Josh Tech | Oct-18 |
| | |
| VP, Gigafactory | Jul-15 |
| Jens Peter Clausen | Sep-18 |
| | |
| VP, Manufacturing | Jan-10 |
| Gilbert Passin | Sep-18 |
| | |
| Director, Outbound Logistics & Global Delivery Operations | May-18 |
| Mark Mastandrea | Sep-18 |
| | |
| Director, Sales for California & Hawaii | Apr-16 |
| Lynn Yeager | Sep-18 |
| | |
| Director, Policy & Business Development | May-14 |
| Marc Kolb | Sep-18 |
| | |
| Director, Body Manufacturing | Aug-17 |
| Stephan Graminger | Sep-18 |
| | |
| Principal, Global Capital Markets | May-10 |
| Albert Luu | Sep-18 |
| | |
| Senior Manager, Residential Field Services | Nov-06 |
| Jimmy Bergeron | Sep-18 |
| | |
| Director Engineering Operations, Business Development, & Associate General Counsel | Mar-16 |
| Keith Witek | Sep-18 |
| | |
| Director, Global Planning & Business Operations | Jul-16 |
| Michael Rossiter | Sep-18 |
| | |
| Senior Manager, Manufacturing Engineering | Sep-14 |
| Chris Lillywhite | Sep-18 |
| | |
| Director, Commercial Project Development, Americas | Oct-11 |
| John Conley | Sep-18 |
| | |
| Head of Global Business Development & Special Projects | Apr-08 |
| Jeremy Snyder | Sep-18 |
| | |
| Head of Global Sales Improvement & Sales Operations | Oct-09 |
| Dustin Krause | Sep-18 |
| | |
| Senior Director, World Wide Field Service Operations | Aug-16 |
| Matthew Parker | Sep-18 |
| | |
| Global Planning Development Head | Apr-17 |
| Seema Gupta | Sep-18 |
| | |
| Team Lead – Global Supply Management & Supplier Industrialization | Jul-15 |
| Tom Baroch | Sep-18 |
| | |
| Senior Quality Engineering Manager S/X | Jun-12 |
| Angelo Menotti | Sep-18 |
| | |
| Director, Logistics, Commercial & Outbound Finished Vehicles | Jan-17 |
| Flemming Frost | Sep-18 |
| | |
| Global Leader, Learning & Talent Development | Oct-15 |
| Ben Putterman | Sep-18 |
| | |
| Head of Global Leadership Development | Oct-17 |
| Andrew Wilhelms | Sep-18 |
| | |
| Senior Director & Worldwide Controller, Revenue Accounting and APAC & EMEA Regional Controllership | Feb-17 |
| Mandy Yang | Sep-18 |
| | |
| Senior Director, North America Operations | Jul-17 |
| Minesh Shah | Sep-18 |
| | |
| Senior Director, Production & Quality | May-17 |
| Antoin Abou-Haydar | Sep-18 |
| | |
| Senior Director, HR | Jan-16 |
| Josh Hedges | Sep-18 |
| | |
| Director, Global Mobility (HR) | Oct-16 |
| Heather Henry | Sep-18 |
| | |
| Senior Engineering Program Manager, Thermal/Aero | Jun-15 |
| Izabelle Back | Sep-18 |
| | |
| VP, Global Supply Management | Mar-15 |
| Liam O'Connor | Sep-18 |
| | |
| Senior VP, Supply Chain (Solar) | Jun-08 |
| David Hamm | Sep-18 |
| | |
| General Manager, Northeast | Apr-17 |
| Gary Gaines | Sep-18 |
| | |
| VP, Worldwide Finance & Operations | Aug-15 |
| Justin McAnear | Sep-18 |
| | |
| Director, Digital Products Engineering | Apr-16 |
| Jennifer Schonher | Sep-18 |
| | |
| VP, Solar Marketing | Aug-14 |
| Adam Happel | Sep-18 |
| | |
| Director, Manufacturing Engineering | Jul-11 |
| Shen Jackson | Sep-18 |
| | |
| Chief Accounting Officer | Aug-18 |
| Dave Morton | Sep-18 |
| | |
| Director Operations, Tesla Energy (Prev. Regional VP @ SCTY) | Jan-08 |
| James Cahill | Sep-18 |
| | |
| Global Director, Service | Jan-08 |
| John Sweigart | Sep-18 |
| | |
| VP, Communications | Sep-16 |
| Sarah O'Brien | Sep-18 |
| | |
| Senior Manager & Founder, Remanufacturing Operations | Apr-10 |
| Dane Conklin | Sep-18 |
| | |
| Director, Solar City Business Development & Sales | Nov-09 |
| Aaron Gillmore | Aug-18 |
| | |
| Chief Platform Architect | Mar-17 |
| Jim Farley | Aug-18 |
| | |
| General Counsel, Europe | Aug-13 |
| Lawrence Freeman | Aug-18 |
| | |
| Chief People Officer | May-17 |
| Gabrielle Toledano | Aug-18 |
| | |
| System Architecture Lead, Autopilot | Feb-16 |
| David Glasco | Aug-18 |
| | |
| System Circuit Design Lead, Autopilot | Feb-16 |
| Dan Bailey | Aug-18 |
| | |
| Director, APAC Tax | Jan-15 |
| Yangyang Chen | Jul-18 |
| | |
| Senior Manager, Vehicle Exterior & Plastics Engineering | Jan-12 |
| James Bellis | Jul-18 |
| | |
| Senior Manager, Vehicle Integration & Dimensional Engineering | Mar-12 |
| Jonathan Sive | Jul-18 |
| | |
| VP, US Energy Sales | May-14 |
| Bryan Ellis | Jul-18 |
| | |
| Director & GM, Canada | Jan-17 |
| Lenny Louis | Jul-18 |
| | |
| Deputy General Counsel, Chief IP & Litigation Counsel | Apr-16 |
| Jeff Risher | Jul-18 |
| | |
| Director, HQ Business Operations (Energy) | Oct-09 |
| Nate Walker | Jul-18 |
| | |
| Senior Regional Sales Director (AZ & NV) | Jul-11 |
| Chris Wahl | Jul-18 |
| | |
| Senior Regional Sales Manager, Energy | Oct-12 |
| Martin Wylie | Jul-18 |
| | |
| Regional VP, Energy Operations (D.C.) | Jan-11 |
| Leon Keshishian | Jul-18 |
| | |
| Senior Project Manager, Battery Tech & Cell Supply Chain | Aug-12 |
| Jun Shin | Jun-18 |
| | |
| Senior Group Manager, Supply Chain | Feb-17 |
| Ryan Anderson | Jun-18 |
| | |
| Director, Engineering Tools | Dec-06 |
| Paul Lomangino | Jun-18 |
| | |
| Director, Auto Press Center | Sep-13 |
| David Apps | Jun-18 |
| | |
| Sr. Director of Quality, Reliability & Test | Aug-16 |
| David Erhart | Jun-18 |
| | |
| Director, Engineering – Energy | Aug-08 |
| David Schonberg | Jun-18 |
| | |
| Chief Information Officer | Mar-17 |
| Gary Clark | Jun-18 |
| | |
| Leader, Hardware Engineering (Autopilot) | Jul-16 |
| Brijesh Tripathi | Jun-18 |
| | |
| Global Director, Business Development & Market Entry | Nov-11 |
| Greg Callman | Jun-18 |
| | |
| VP Sales in North America | May-15 |
| Ganesh Srivats | Jun-18 |
| | |
| VP of Worldwide Service and Customer Experience | Feb-16 |
| Karim Bousta | Jun-18 |
| | |
| Regional Director, Northern Europe (Previously Head of Norway) | Jun-14 |
| Pål Simonsen | Jun-18 |
| | |
| Director, Manufacturing Engineering | Feb-07 |
| Yannick Roux | Jun-18 |
| | |
| VP of Engineering | Dec-06 |
| Nick Kalayjian | Jun-18 |
| | |
| Head, Advanced Manufacturing & Battery Enclosure Manufacturing | Mar-12 |
| George Ku | Jun-18 |
| | |
| VP, Energy Sales & Operations | Dec-13 |
| Cal Lankton | May-18 |
| | |
| Senior Manager, Autopilot Programs (Product) | Dec-14 |
| Sameer Qureshi | May-18 |
| | |
| Director of Field Performance Engineering & Primary Contact for NTSB and NHTSA | Sep-14 |
| Matthew Schwall | May-18 |
| | |
| Director, Utility Sales | Jan-12 |
| Robert Rudd | May-18 |
| | |
| Product Director, Stationary Storage | Jan-12 |
| Archan Padmanabhan Rao | May-18 |
| | |
| Senior VP of Engineering | Oct-13 |
| Doug Field | May-18 |
| | |
| Senior Mechanical Design Engineer, Battery | Apr-15 |
| Paul Durkee | Apr-18 |
| | |
| VP, North America Sales | Aug-09 |
| John Walker | Apr-18 |
| | |
| VP, Powertrain Engineering | Oct-06 |
| Jim Dunlay | Apr-18 |
| | |
| Global Head of Capex Supply Management | Sep-13 |
| William Drewery | Apr-18 |
| | |
| VP of Autopilot | Jan-16 |
| Jim Keller | Apr-18 |
| | |
| Director, Western Europe | Feb-14 |
| Georg Ell | Apr-18 |
| | |
| Model S and X Program Manager | Jan-13 |
| Matthew Renna | Apr-18 |
| | |
| Director, Factory Software | May-17 |
| Eric Larkin | Apr-18 |
| | |
| Global Head of People Analytics | Feb-16 |
| Kanwal Safdar | Apr-18 |
| | |
| VP, Global Capital Markets | May-15 |
| James Radford Small | Mar-18 |
| | |
| Treasurer and VP of Finance | Mar-13 |
| Susan Repo | Mar-18 |
| | |
| Chief Accounting Officer & Corporate Controller | Oct-16 |
| Eric Branderiz | Mar-18 |
| | |
| Director, Energy Products Finance | Jul-16 |
| Charlotte Beard | Mar-18 |
| | |
| Senior Director, Global Facilities | Dec-14 |
| Jimmy Knauf | Mar-18 |
| | |
| President, Global Sales & Service | Nov-15 |
| Jon McNeill | Feb-18 |
| | |
| Director, Gigafactory Manufacturing Engineering | Apr-09 |
| Alan Schoen | Jan-18 |
| | |
| Senior Director, Manufacturing Engineering | May-05 |
| Jason Mendez | Jan-18 |
| | |
| Senior Manager, Equipment Engineering | Jan-11 |
| Will McColl | Jan-18 |
| | |
| Senior Manager, Battery Tech, Cell Quality, and Materials Analysis | Jan-12 |
| Celina Mikolajczak | Jan-18 |
2017 and Earlier
| | |
| --- | --- |
| Position and Name | Dates |
| | |
| Senior Manager of Battery Module Design | Sep-06 |
| Ernest Villanueva | Dec-17 |
| | |
| VP, Tesla Energy Commercial Sales (Americas) | Jan-10 |
| Erik Fogelberg | Dec-17 |
| | |
| Head of IR | Jan-11 |
| Jeff Evanson | Nov-17 |
| | |
| President of Tesla Finance, LLC | Sep-13 |
| William J. Donnelly | Oct-17 |
| | |
| Sr. Director, Global Marketing (Head of Global Marketing) | Jul-04 |
| Collette Bridgman | Oct-17 |
| | |
| Director, Supply Chain Automation | Jul-13 |
| Landon Mossburg | Oct-17 |
| | |
| Director, Construction Management | Jan-15 |
| John Vardaman | Oct-17 |
| | |
| VP, EMEA | Nov-15 |
| Ben Hill | Oct-17 |
| | |
| Director, Real Estate & Deputy General Counsel | May-14 |
| Robert Harmon Jr. | Oct-17 |
| | |
| Senior Director, Battery Engineering | Jan-13 |
| Jon Wagner | Sep-17 |
| | |
| IR Associate/Consultant | Sep-16 |
| Andrea James | Sep-17 |
| | |
| Director, Learning & Development | May-11 |
| Beth Loeb Davies | Sep-17 |
| | |
| Director, Grid Services | Apr-14 |
| Ryan Hanley | Sep-17 |
| | |
| Head of Business Development | Jul-06 |
| Diarmuid O'Connell | Sep-17 |
| | |
| Associate General Counsel (VP, Deputy General Counsel & Head of Corporate Securities at SCTY) | Feb-11 |
| Phuong Phillips | Sep-17 |
| | |
| Senior Director of Battery Technology | Mar-06 |
| Kurt Kelty | Aug-17 |
| | |
| Senior Director of EHS (Previously VP of Safety @ SCTY) | Apr-10 |
| Carlos Ramirez | Aug-17 |
| | |
| Head of HR | Nov-09 |
| Arnnon Geshuri | Aug-17 |
| | |
| VP, Global Sales Operations & VP, EMEA Sales | Mar-14 |
| Zean Nielsen | Aug-17 |
| | |
| Co-founder/CTO of SCTY | Jul-06 |
| Peter Rive | Jul-17 |
| | |
| Director, Hardware Engineering | Jul-14 |
| Raj Singh | Jul-17 |
| | |
| VP, Talent Acquisition & Analytics | Jul-15 |
| Raj Dev | Jul-17 |
| | |
| Global Director, Service Innovation | Apr-15 |
| Kenny Handkammer | Jul-17 |
| | |
| Head of Autopilot software team | Jan-17 |
| Chris Lattner | Jun-17 |
| | |
| Global Creative Director | Jun-16 |
| Chester Chipperfield | Jun-17 |
| | |
| Staff Process Development Engineer | Jan-16 |
| Rene LeBlanc | Jun-17 |
| | |
| CEO/Founder of SCTY/Tesla Energy Head of Sales & Service | Jul-06 |
| Lyndon Rive | Jun-17 |
| | |
| Associate General Counsel (VP, Deputy General Counsel & Head of Litigation at SCTY) | Jan-13 |
| Fred Norton | Jun-17 |
| | |
| Co-founder/CTO of Zep Solar (acquired by SCTY) | Dec-13 |
| Jack West | May-17 |
| | |
| Director, Powertrain Manufacturing | Nov-15 |
| Alison Armstrong | May-17 |
| | |
| Director of HR, Engineering | Aug-15 |
| Jennifer Kim | Apr-17 |
| | |
| Chief Financial Officer | Nov-15 |
| Jason Wheeler | Apr-17 |
| | |
| Executive (Position Unknown), Founded Grohmann Engineering which Tesla purchased in November 2016 | Nov-16 |
| Klaus Grohmann | Mar-17 |
| | |
| VP, Head of Autopilot | Apr-15 |
| David Nistér | Mar-17 |
| | |
| Director of Hardware Engineering | Jun-10 |
| Satish Jeyachandran | Feb-17 |
| | |
| VP of HR | Oct-14 |
| Mark Lipscomb | Feb-17 |
| | |
| Country Director, France | Mar-14 |
| Olivier Loedel | Feb-17 |
| | |
| Interim VP, Autopilot Software | Aug-16 |
| Jinnah Hosein | Feb-17 |
| | |
| Senior Manager, Reliability Engineering | Oct-10 |
| Georgios Sarakakis | Jan-17 |
| | |
| Sales Director of Tesla Energy | Apr-16 |
| Ardes Johnson | Jan-17 |
| | |
| VP, Human Resources | Oct-09 |
| Mornie Robertson | Dec-16 |
| | |
| Senior Manager, Autopilot | Oct-14 |
| Alexandre Haag | Dec-16 |
| | |
| Director of Autopilot Programs | Dec-14 |
| Sterling Anderson | Dec-16 |
| | |
| VP of Products & Programs (Tesla Energy) | Aug-09 |
| Mateo Jaramillo | Dec-16 |
| | |
| VP, Real Estate, Store Design & Retail Development | Jul-12 |
| Gregg Hurley | Nov-16 |
| | |
| Director, EMEA Financial Services | Apr-14 |
| Fedor Artiles | Nov-16 |
| | |
| VP, Finance & Treasurer, New Markets | Sep-07 |
| Mike Taylor | Oct-16 |
| | |
| Head of Global Communications | Jan-15 |
| Khobi Brooklyn | Sep-16 |
| | |
| VP, Manufacturing | Jun-14 |
| Josh Ensign | Sep-16 |
| | |
| VP, Financial Services EU, APAC | Dec-13 |
| Georg Bauer | Sep-16 |
| | |
| Head of Data Science, Service | May-15 |
| Gregory Ryslik | Aug-16 |
| | |
| Senior Engineering Manager – Maps and Navigation | Oct-14 |
| Bill Chen | Aug-16 |
| | |
| VP, Products | Nov-13 |
| Rich Heley | Jul-16 |
| | |
| Director, Manufacturing, Paint, Plastic & Coatings Operations | Dec-12 |
| Rich Schmidt | Jun-16 |
| | |
| VP, IT (Acting CIO) | Feb-12 |
| Ganesh Iyer | May-16 |
| | |
| Director of Product Excellence | Sep-13 |
| Chris Van Wert | May-16 |
| | |
| VP, Vehicle Production | Apr-11 |
| Greg Reichow | May-16 |
| | |
| Director, Vehicle Purchasing | Jan-13 |
| Stephen Ivsan | Apr-16 |
| | |
| Director, Global Service Operations | Sep-13 |
| Omar Riviera | Apr-16 |
| | |
| VP, Regulatory Affairs & Deputy General Counsel | Aug-10 |
| James Chen | Apr-16 |
| | |
| VP, Finance & Worldwide Controller | Oct-14 |
| Michael Zanoni | Mar-16 |
| | |
| VP, Global Communications | Oct-14 |
| Ricardo Reyes | Mar-16 |
| | |
| VP, Information Technology | Jul-12 |
| Guru Sankararaman | Mar-16 |
| | |
| VP, Global Supply Chain and Operations Planning | Sep-12 |
| Paolo Cerruti | Feb-16 |
| | |
| CIO and VP, IT & Business Applications | Jan-12 |
| Jay Vijayan | Jan-16 |