December 18, 2019
Who is Elon Musk? A visionary hero to be worshipped by all? A dangerous narcissist that needs to be called out for his evil behavior? Both? Neither? Something in between? Read this and decide for yourself.
On July 3, 2018, @lopezlinette published a shocking article. She reported that Elon Musk ordered his team to skip a critical brake test in order to achieve his goal of 5000 Model 3s produced in a week.
Tesla CEO Elon Musk ordered his employees to stop putting nearly finished Model 3s through a critical test before leaving the company's factory in Fremont, California, according to an internal document viewed by Business Insider.
It's called the brake-and-roll test, and it ensures the car is correctly aligned.
An industry expert told Business Insider that every automaker does this test to ensure quality and function.

Linette Lopez
Jul 3, 2018, 8:20 AM
What was Elon Musk's response? He viciously smeared her good name on Twitter by asking her boss if she bribed Martin Tripp. Was he attempting to get her fired? If Elon Musk had any evidence to back up his smear, we'd have seen it by now, no?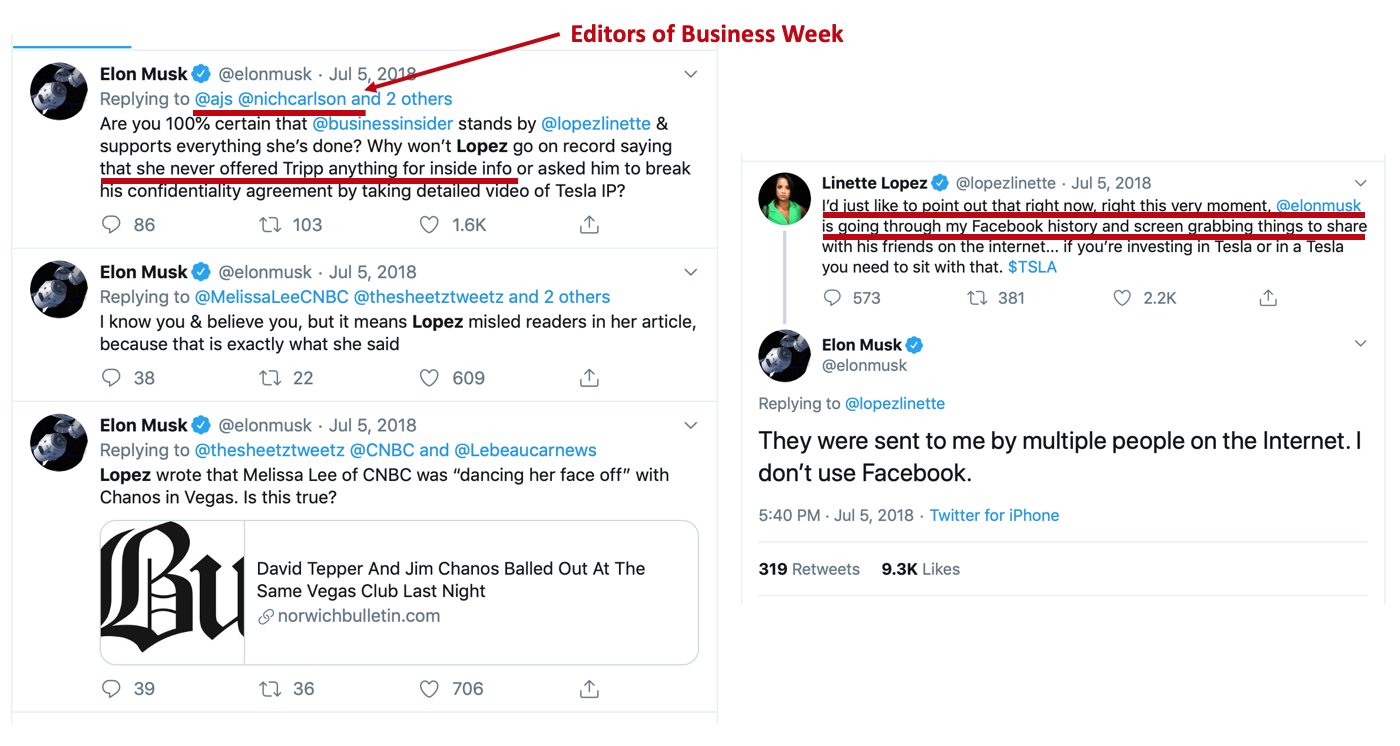 On June 8, 2016, @Tweetermeyer published a shocking article. He reported that the NHTSA was investigating the use of NDAs by Tesla to cover up possible suspensions issues (aka whompy wheels).
Tesla Suspension Breakage: It's Not The Crime, It's The Coverup

June 8, 2016 By Edward Niedermeyer
What was Elon Musk's response? He viciously smeared Ed's good name in a Tesla blog by accusing him of fabricating the story for financial gain. If Elon Musk had any evidence to back up his smear, we'd have seen it by now, no?
Tesla Blog Excerpt, June 9, 2016

Finally, it is worth noting that the blogger who fabricated this issue, which then caused negative and incorrect news to be written about Tesla by reputable institutions, is Edward Niedermeyer. This is the same gentle soul who previously wrote a blog titled "Tesla Death Watch," which starting on May 19, 2008 was counting the days until Tesla's death. It has now been 2,944 days. We just checked our pulse and, much to his chagrin, appear to be alive. It is probably wise to take Mr. Niedermeyer's words with at least a small grain of salt.

We don't know if Mr. Niedermeyer's motivation is simply to set a world record for axe-grinding or whether he or his associates have something financial to gain by negatively affecting Tesla's stock price, but it is important to highlight that there are several billion dollars in short sale bets against Tesla. This means that there is a strong financial incentive to greatly amplify minor issues and to create false issues from whole cloth.
Certainly Elon Musk would not deliberately cover up a severe safety issue and viciously attack a critic or whistleblower, would he? Nah, surely not. Wheels fall off of ICE cars all the time, don't they?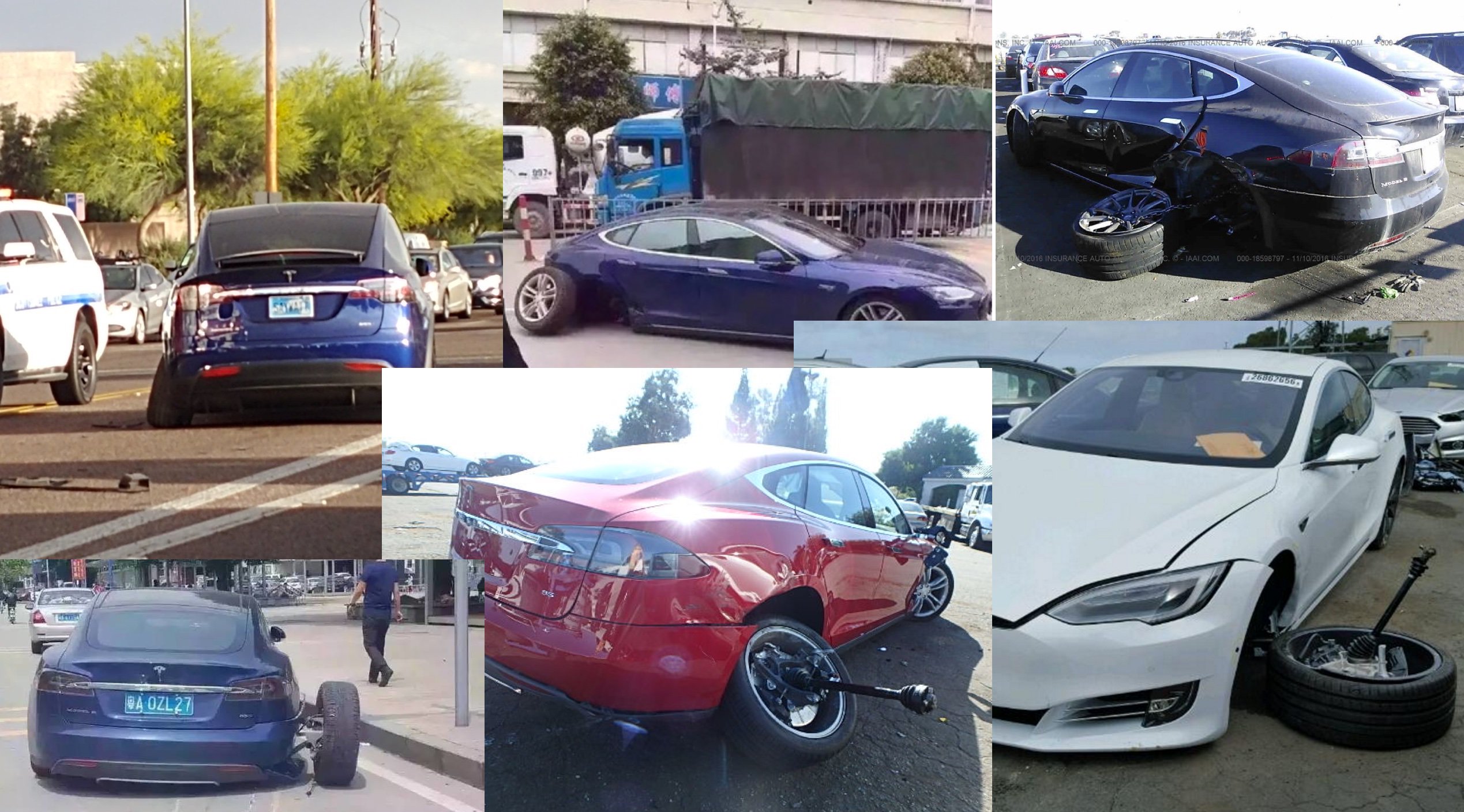 Fast forward to March 29, 2018. Elon Musk is still attacking journalists on Twitter, pretending he cares about safety. The evidence strongly suggests Tesla has a policy on recalls, and Elon Musk's tweet doesn't capture it.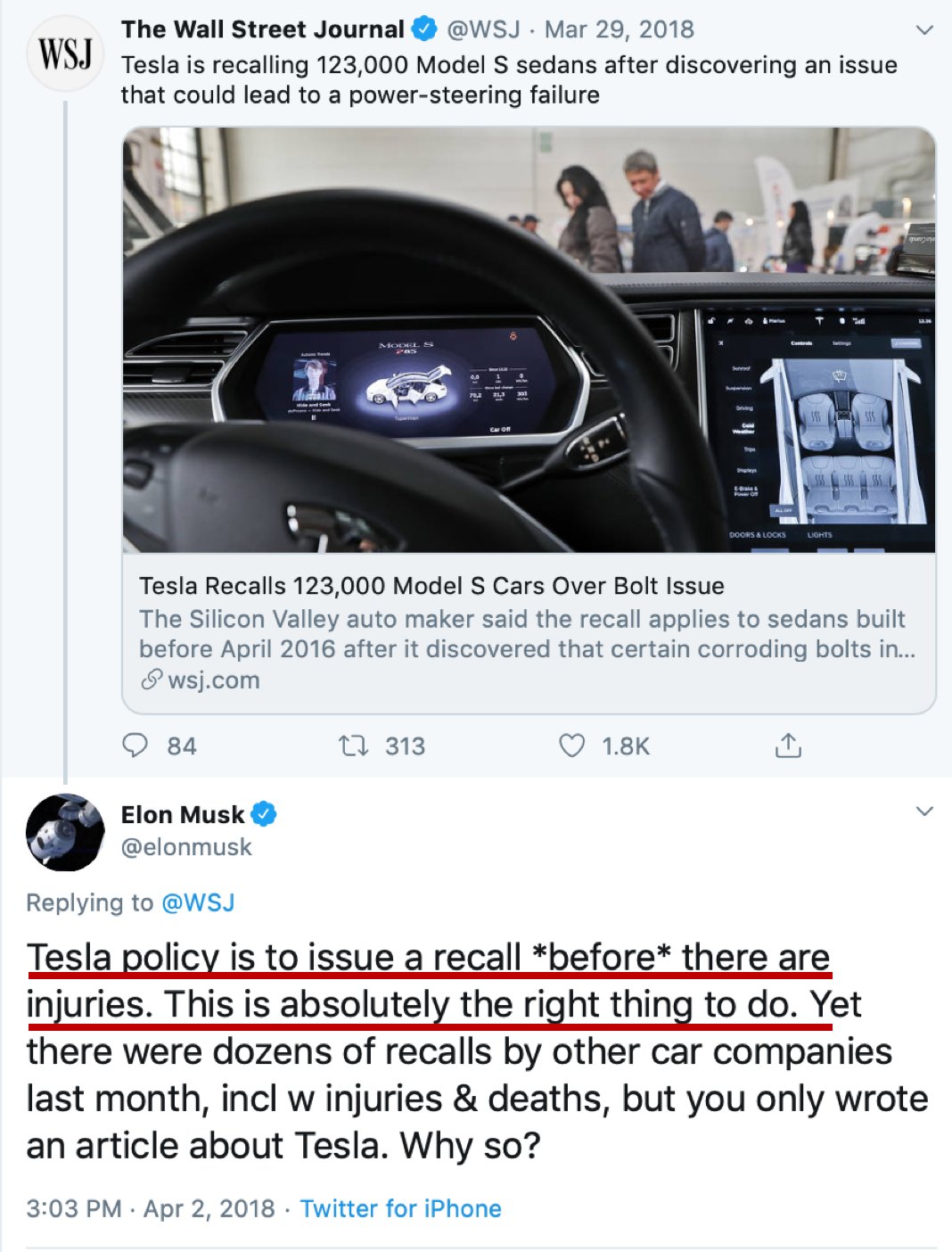 On April 16, 2018, @reveal published a shocking article. They reported on devastatingly unsafe conditions inside the Tesla factory at Fremont, holding Elon Musk personally responsible for much of the problem.
Tesla says its factory is safer. But it left injuries off the books

Concerned about bone-crunching collisions and the lack of clearly marked pedestrian lanes at the Fremont, California, plant, the general assembly line's then-lead safety professional went to her boss, who she said told her, "Elon does not like the color yellow."
What was Elon Musk's response? In an official statement, Tesla said @reveal was 'an extremist organization working directly with union supporters to create a calculated disinformation campaign…'
Tesla Blog Excerpt, April 16, 2018

We welcome constructive criticism, but those who care about journalistic integrity should strive for the truth above all. Unfortunately, the writers at Reveal have published an article that paints a completely false picture of Tesla and what it is actually like to work here. In our view, what they portray as investigative journalism is in fact an ideologically motivated attack by an extremist organization working directly with union supporters to create a calculated disinformation campaign against Tesla.
In response to that nonsense, @reveal thoroughly embarrassed Elon Musk in the attached thread. If Elon Musk had any evidence to back up his smear, we'd have seen it by now, no?
1/ So before yesterday's investigation came out, @tesla released a statement accusing us of being an "extremist organization" who's "working directly with union supporters to create a calculated disinformation campaign."

A LOT to unpack right there. So let's do it. pic.twitter.com/Yerg8DoWPW

— Reveal (@reveal) April 17, 2018
Incidentally, Tesla and Elon Musk were found guilty of union busting by the NLRB in September of this year. The details of the case are, quite frankly, shocking. For Elon Musk to smear @reveal in the way he did is classic gaslighting.
Tesla and CEO Elon Musk violated federal labor law, judge rules

The judge ordered Tesla to reimburse one pro-union worker for lost wages and rescind rules aimed at union activity.
In late July, 2018, Elon Musk used information derived from the doxxing of Montana Skeptic to personally call his employer and threaten to sue him if Montana kept writing critical articles about
Get a Load of This Ridiculous Story About How Elon Musk Called a Tesla Critic's Boss to Complain About Him (Updated)

This week, CEO Elon Musk took time off from his purportedly "busy" schedule to personally call the employer of a Tesla bearish critic who writes about the company under a pseudonym, and threatened to sue him if he didn't stop writing about the company. Here's the icing on the cake: the critic might work for an oil investor.
Martin Tripp blew the whistle on Elon Musk and Tesla for allegedly allowing dangerously defective battery packs to be released to consumers. What was Elon Musk's reaction? He tried to destroy Tripp. Read it for yourself here:
After @pac_watson blew the whistle on Tesla's onsite safety clinic, somebody called California child protective services and fabricated nonsense about her children. Who would do such a thing? Read tweets 1-13 in this thread and hazard a guess.
Inside Tesla's factory, a medical clinic designed to ignore injured workers
CHILD PROTECTIVE SERVICES
Really? I neglect my children. That's what you want to bring to my children for the holidays. Bring it. MY CHILDREN ARE NOT SCARED OF YOU EITHER. @elonmusk @mayemusk #DRBESH Tesla pic.twitter.com/1etuEIHdP6

— Pac_Watson🤕🤒😷 (@pac_watson) November 21, 2018
After emailing Elon Musk directly with her concerns about the quality of parts Tesla was using, @3d_Cristina left the company. Like other whistleblowers, she too had to be destroyed. Read about it here:
In new lawsuit, ex-Tesla engineer claims company is trying to 'catastrophically damage' her
Tesla sought and obtained a temporary restraining order against @skabooshka for what Elon Musk described in an email as attempted murder. After smearing his good name, it came time to produce evidence. Elon Musk dropped the case.

After @aarongreenspan properly notified Elon Musk of his need to preserve documents because of a likely intent to sue for libel, Elon Musk went ahead and smeared Aaron again via email.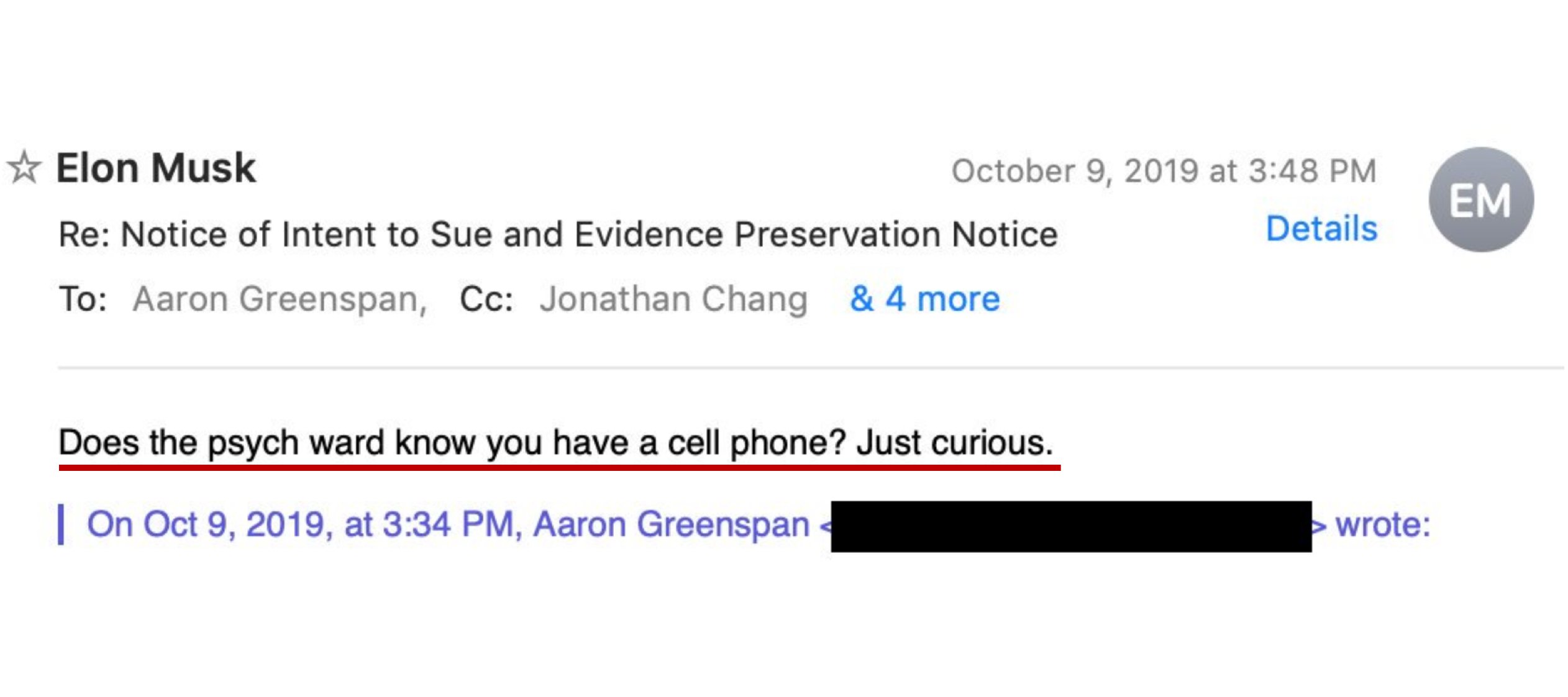 Incidentally, because @russ1mitchell (an L.A. Times reporter who writes skeptically about Tesla) once gave $50 to @aarongreenspan's amazingly useful non-profit @plainsite, Elon Musk appears to have tried to get him fired on Twitter by harassing his boss.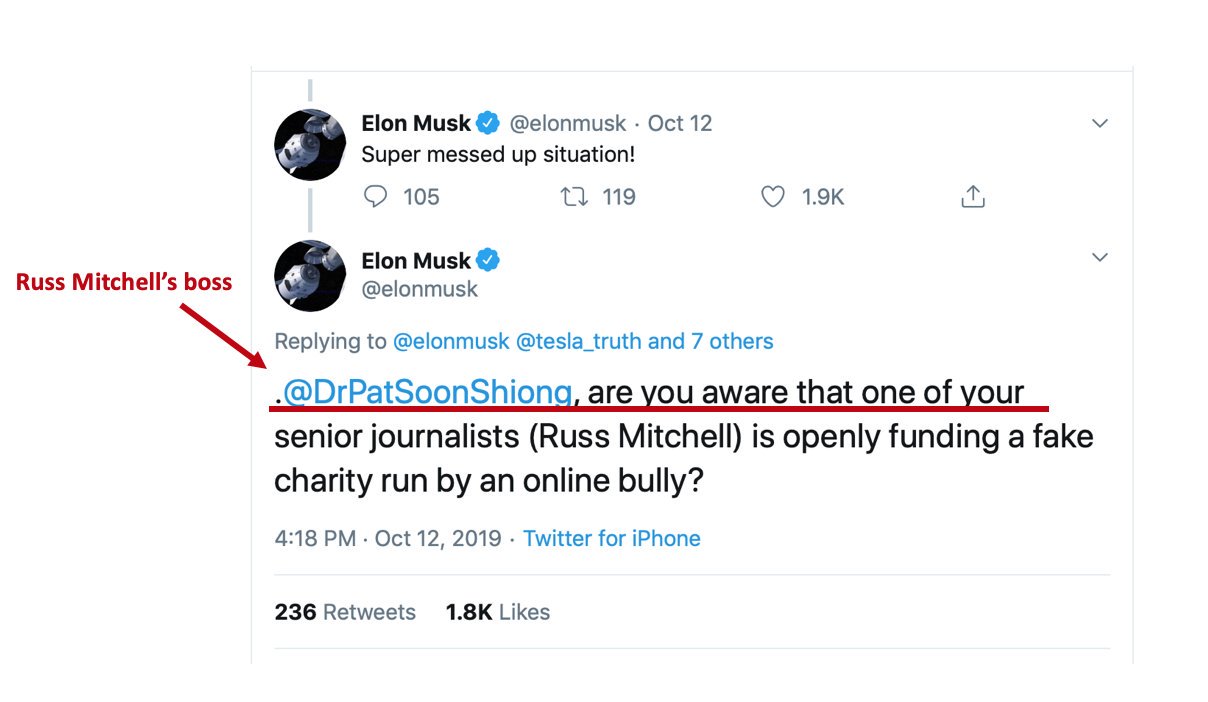 There's not much more that needs to be said about the pedo guy incident. The evidence strongly suggests Elon Musk fabricated the entire smear in a fit of narcissistic rage. Read it for yourself here:
Elon Musk Wants You To Know The 'Pedo Guy' Thing Has Been Very Hard On Elon Musk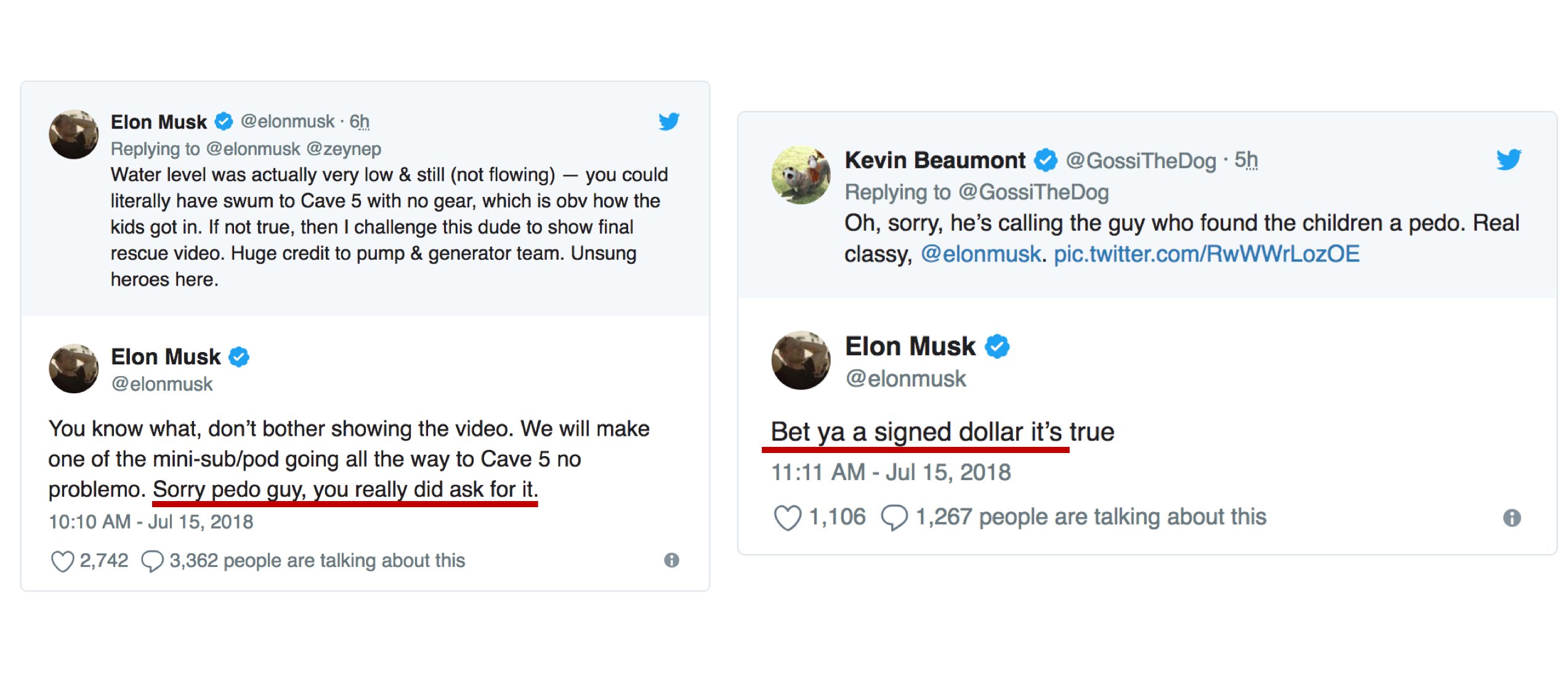 According to reporting by @danahull, Elon Musk was investigated by the Tesla board for allegedly shoving an employee and threatening to 'nuke' him. Of course, the worst board in America gave Elon Musk a pass.
Tesla Board Probed Allegation That Elon Musk Pushed Employee

"I will nuke you": Elon Musk was accused of shoving and threatening a former Tesla employee – but the company's board says there was no physical altercation
According to reporting by @WSJ, Elon Musk released Autopilot long before it was safe and many on the team quit in shock. If you've made it this far, you can't be surprised.
Tesla's Push to Build a Self-Driving Car Sparked Dissent Among Its Engineers
There are countless other examples I could have covered. To all the enablers of Elon Musk I say this: Shame on you. History will not be kind to you and nor should it be. Short burns and stock price bro aren't going to make $tslaQ go away. This is bigger than money.
@TeslaCharts
November 11, 2019
Minor revisions and updated links December 18, 2019